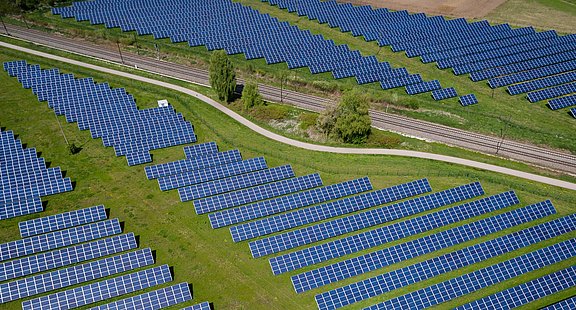 Photovoltaics solutions
Photovoltaics (PV) play a big role in the energy transition already and will do so even more in the future. The members of Elevion Group can provide a wide variety of services in the photovoltaic sector, from ground mounted to roof top solutions. Ranging from the planning phase, project management and financing to the construction of power plants and their operation and maintenance. There are even more ways for our members to help you to implement photovoltaics so don't hesitate to contact them if you have any questions and take a look at their websites.
Heat pumps
Heating and cooling are responsible for over half of the energy consumption in Germany, this makes it clear why this sector is very important in the energy transition. Heat pumps offer a way to regulate the temperature in buildings in a sustainable and energy efficient way. Let our expert help you find the best solution for you on how to implement this sustainable technology in your buildings and facilities.
Biogas & Biomethane solutions
Converting waste into a valuable resource – biogas plants make it possible. Organic waste and waste products from agriculture and livestock farming are used to supply biomass plants. These are able to as biogas and biomethane which can be used as a renewable source of energy. We pay special attention to the rational use of agricultural land in order not to withdraw it from the food chain.
Hydrogen solutions
Hydrogen is a very important player in the process of renewable energy, as it can be used in fuel cells to generate electricity, or combined power and heat. Hydrogen also serves as a key aspect because it can be used to store, move, and deliver energy produced from other sources. Moreover, the benefit of hydrogen energy lies in the fact that it can be produced in several ways, for example by splitting water into hydrogen and oxygen using renewable resources, by natural gas reforming (thermal process), by electrolysis, or by solar-driven and biological processes.
Energy storage
When using renewable energy sources your energy supply can be subject to fluctuations. This makes finding ways to store the energy you produce key to get the best use out of it. Our Experts can help you find the best technology suitable to your situation so you can get the most out of your energy production.
E-mobility solutions
Electric cars are becoming more and more part of the mainstream. Especially since governments in Europe are starting to support the implementation of electric mobility more and more. In the future electric cars will be the norm rather than the exception. Our experts can ensure that you can use your own energy e.g., from solar panels on your roof, to charge your cars. We offer the highest standards in safety, technology and conceive. This assures you a charging solution that gives you peace of mind with easy installation, operation, and maintenance.